Introduction of Lahore
The heart of Pakistan "Lahore'' is a historical, cultural, populous, attractive city with its history expanding over nearly 4000 years. To some historians its old name was Lavapura. It is the historical center of South Asia, the 18th most populous city in the world and second largest metropolitan city of Pakistan after Karachi. It is the capital of Punjab Province and its current population is nearly 10,052,000. It is ranked 34 in the most populated urban areas of the world and 8th largest city in the Organization of Islamic Cooperation. Its total area is 1,772 km2 (684 sq miles) and is at a distance of nearly 300 kilometers from the Federal Capital Islamabad. Lahore was ranked as Gamma+ world city in 2010 and ranked second best tourist city after Taxila by "The Guardian".

History of Lahore
Lahore has a history expanded over nearly 4000 years.  Ancient Egyptian geographers named it as Labokia, whereas it is also described by the 7th century Chinese Tourist Hieun Tsang, which shows it has a tremendous history expanded over histories. It was the main city in the Old Hinde Rajpoot regiem especially Suryavansha, Solanki and Bhattis. In 1241 it was taken over by Mongols and Timur recaptured it in 1397. Later on during Ghaznavis rule in Afghanistan it was the capital of Hindu Raj in the era of Anandpal. After Ghaznavis took over Lahore from Rajpoots Malik Ayaz was appointed as Governer of Lahore and it became the capital of Ghaznavi Empire. During Ayaz Era, Lahore became a cultural and academic centre, renowned for poetry. It remained the capital city or the most important city during  the Khiljis, Tughlaqs, Mamluk, Sayyid and Lodhis. During Aibak's era it was named as Ghazni of Hind due to its richness culture, education and development as it was having largest no of Persian poets at that time. During Mughal era it was the one of the most important cities of Mughal Raaj, it served as capital of Mugal era for many years. Lahore reached the peak of its architectural glory during the this rule, many of whose buildings and gardens have survived the ruin of time like Shahi Qila, Shalamar Garden, Masjid Wazir Khan etc. It was then taken over by Afghans and in mid 18th centure Marathas captured it till 1761, after that Sikhs of Punjab on gaining power in Punjab captured Lahore by the end of 18th century and Lahore became the capital city of Sikh Raaj. Later on in 1840s it was taken over by the British rulers and till independence it remained an important city of the British Raj. During this era Lahore was furnished with many buildings like General Post Office, Lahore Museum, Aitchison College, Mayo School of Arts (now the NCA), Ganga Ram Hospital, Lady Mclagan Girls High School, the chemistry department of the Government College University, the Albert Victor wing of Mayo Hospital, Sir Ganga Ram High School (now Lahore College for Women) the Hailey College of Commerce, Ravi Road House for the Disabled, the Ganga Ram Trust Building on Shahrah-e-Quaid-e-Azam, and the Lady Maynard Industrial School. During independence struggle Lahore remained the centre of revolutionary activities for both Congress and Muslim League. It was the centre of revolutionists, therefore British rulers make it a prison for these freedom fighters. Bhagat Singh was hanged in Lahore, many sessions of Indian National Congress were held in Lahore and famous session of Muslim League of 1940 was also held in Lahore in which muslims from all over India demanded a separate homeland for themselves. After independence it gained further importance in cultural and economic aspects and famous Islamic Summit was also held in Lahore in 1974. It is now the centre of Political, Social, Economic, Sports activities in Pakistan.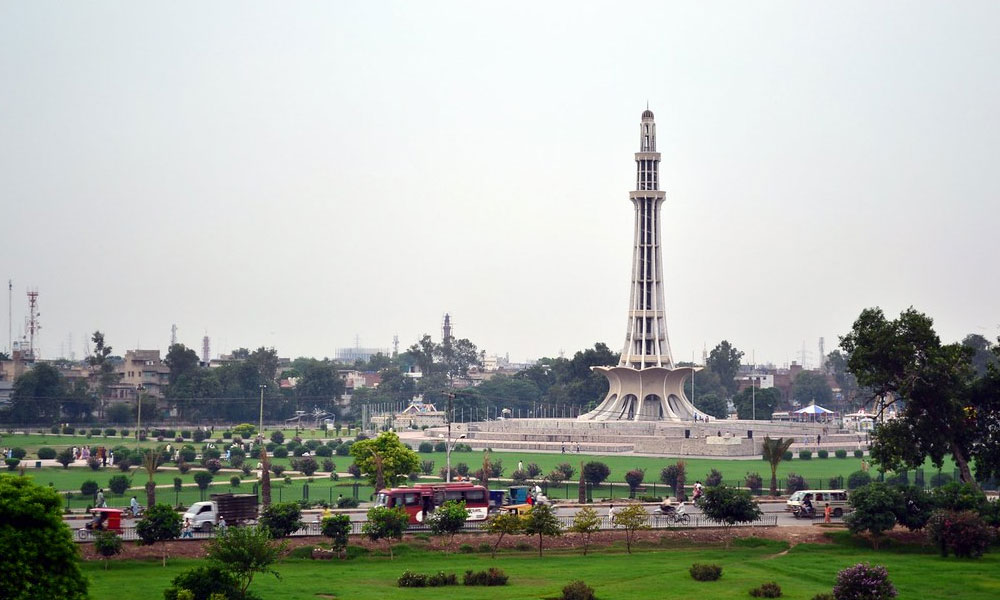 Development
Lahore is a populous city in Pakistan and is currently controlled by city district government which has divided it into 9 towns for its better administration. Lahore being the centre of activities since centuries received many developments especially in the field of architecture. Nearly all rulers focused on the architectural aspect of Lahore and same can be seen in Lahore now a days as well. Current focus on Lahore is made in respect of transportation, Metro Bus Service was introduced in 2014 by the provincial government in Lahore, and the project of Orange line train is under way right now. The traffic issues of Lahore are addressed and it has mostly solved now. The Parks of Lahore are now furnished with modern day needs and luxuries which increased the no of visitors right now. Even now it has emerged as the centre of attraction, sports, tourism and much more since famous paper "The Guradian" has termed it as the second best place for tourism in Pakistan.
Places of Attraction
Lahore has a charm for all ages, historian will find Lahore a historical city, tourist will find it as a best tourist place, a food lover will find Lahore matchless in this aspect etc. Regarding history it is enriched with famous Shahi Qila Lahore which was the centre of Mughal dynasty and rulers after them. In it the remaining of Mughals can be seen whereas the museum inside fort covers the history from 1799 onwards. Alongside this the famous Badshahi Mosque can be seen- a master piece of architecture of Mughal Era is. Its famous red stone structure is still in its gloom which glorifies the architectural competence of Mughals. In front of Shahi Qila the historical Minatare of Pakistan (Meenar e Pakistan) will welcome you. Its surrounding park is also a place of attraction and charm for visitors. In the old Lahore city Masjid Wazir Khan is a historical attractive place which is also a leftover of Mughal era. Alongside Lahore the Hazuri Bagh, Mochi Bagh, Gulshan Iqbal Park, Model Town Park, Race Course Park, Nasir Bagh Lahore, Jallo Park, Wild Life Park, and Changa Manga, an artificial forest near Lahore in the Kasur district, Bagh-e-Jinnah Shalamar Bagh, The Grave of Jehangir, Noor Jehan also attract visitors. The Lahore museum, GPO, Anarkali Bazar, the Nolakha Bazar, Shah Almi market, The Data Darbar, Mughlia gates of Lahore like Mochi Gate, Dehli Gate, Lohari Gate etc, Tomb of Iqbal, Punjab Assembly building etc the flag ceremony at Wahgah Border in the evening, Bata Shoe factory, Alama Iqbal International Airport, Jallo Park etc all are the places of charm, beauty, attraction and satisfaction to the viewers.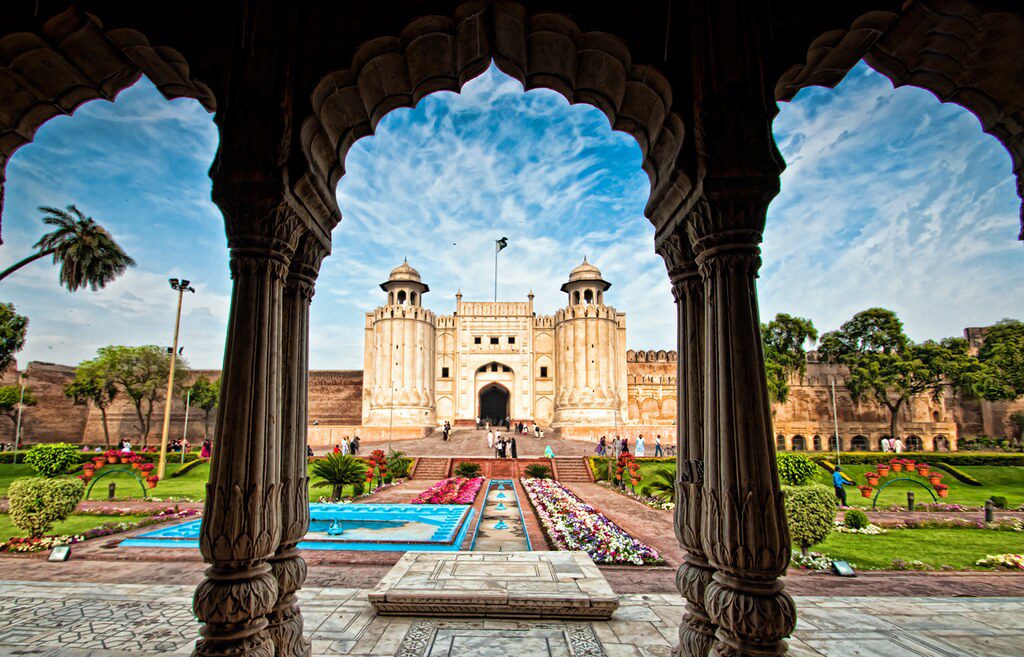 Food
Lahore is the centre of spicy and tasty foods in Pakistan. Foods like Chicken Lahori, Gosht karahi (chicken or mutton cooked with a spicy tomato-based gravy in a concave-shaped cooking vessel that resembles a wok), Dal gosht (meat cooked with pulses), Murgh Cholay/Channay (chicken cooked with chickpeas), Murgh Musallam (chicken cooked with rice and dry fruits stuffed inside), Seekh kababs (minced meat rolls), Gol gappa, Dahi bhallay (appetizers dipped in yoghurt), Shawarma, Chicken tikka (barbecue-style fried chicken pieces), Halwa Poori – a breakfast speciality of Lahore, Samosa, Paya (dish), Lahori Fried Fish, Chargha (Lahori-style roast chicken), Lahori Charga, Lahori Chana Chat, Lahori Daal Murgh, Lahori Red Chicken Karahi are rich in taste, spice and are a trade mark in Lahore in food industry. The famous food street alongside Anarkali market, the moon market, the Lakshami Chowk is known as the centers of taste in Lahore.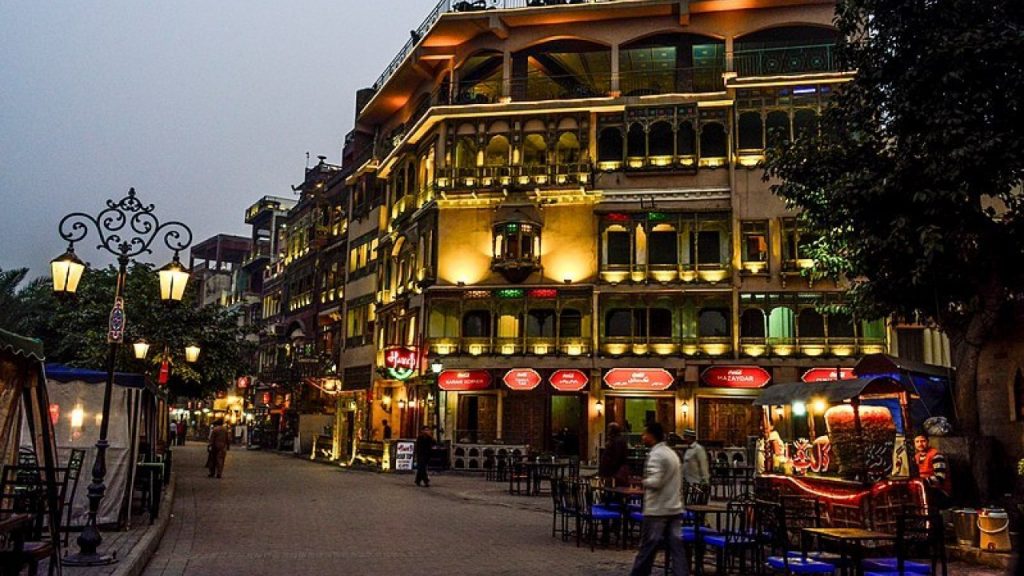 Local Festivals
Lahore is blended with many Mughal, Western and other traditional festivals. Eid ul Fitr, Eid ul Azha, Eid Milad un Nabi are celebrated by Muslims with full zeal and zest with street lightening, and much more enthusiastic attitude. The urs of Data Ganj Bakhsh at the Mazar of Ali Hijweri is celebrated every year with thousands of people gathered there. The famous Punjabi festival of Basant is celebrated every year at the start of spring which includes the kite flying festival also. The kite flying has been banned due to carelessness and life losses while the Basant is still celebrated in Lahore in many areas. Lahore a city of Muslims as well as non muslim population and all communities celebrate their religious freedom each year.
Climate
Lahore is a semi-arid climate area. Its hottest month is June, when average high temperature exceeds 40 °C (104.0 °F). Later part of June welcomes monsoon, and the wettest month is July, with heavy rain-falls and evening thunderstorms with cloudbursts. The coolest month is January with dense fog. The highest temperature recorded was 48 degree Celsius recorded in 2007, it was recorded in shade while in direct sunlight the temperature heat went up to 55 degree Celsius. In spring, summer and half winter season it remains hot while in January it becomes a cold area suitable for tourism.
Activities to Do in Lahore
Lahore is a centre of all activities in Pakistan, one would have a best taste of economic and quality shopping in Lahore, one would have a better tourism in Lahore and one would have dream visit of Lahore regarding many aspects.
Accommodation
In this regard one would have to rely on the hotels in Lahore which are from ordinary to luxurious in their accommodation facilities. As far as the students are concerned many colleges and Punjab university also offers accommodation to these tourists on reasonable rates.