The train journey is always memorable, charming and beautiful because the lush green scenery along the way, the atmospheric atmosphere leave a reflection on the screen of the mind. With the color of the road, if we are provided with such comforting and eye-catching facilities even inside the train, the desire to never end this journey gradually increases. We show you the best luxury trains in the world that once you get on, you don't want to go back.
1. Seven Stars: Kyushu, Japan
Seven Star Kyushu is one of the most beautiful and luxury trains in Japan with 7 coaches and 14 rooms – the train can easily carry 30 people. The interior decoration is very attractive and the dining area of a hotel is known. The floor is made of standard walnut wood and four moons are added to its beauty with floral and bird carvings on all sides.
2. Rocky Mountaineer, Canada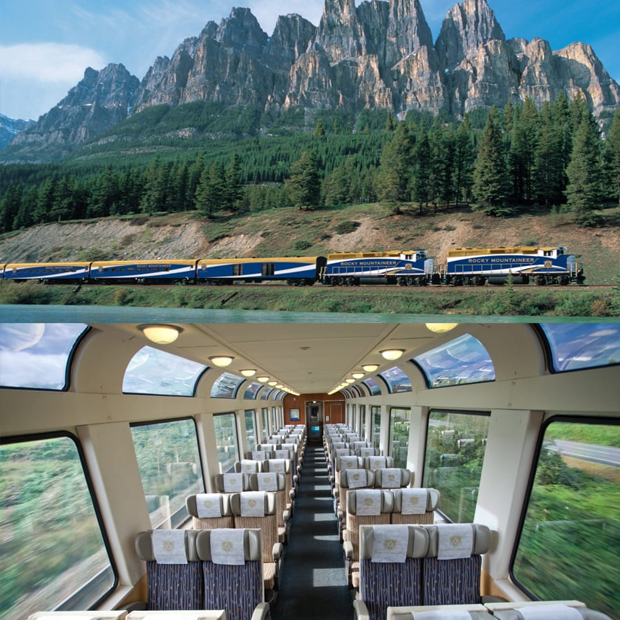 This is the Canadian train Rocky Mountainer that travels from Canada to North America. For those who love wildlife, this train journey can be very interesting as there are rare species of wildlife on its routes.
3. Maharajas' Express, India
The Maharaja Express train of India really resembles a Maharaja's palace in which one feels as if one is sitting inside a palace. This train is designed to be inspired by the time of kings.
4. Golden Eagle, Moscow:
This beautiful Golden Eagle train from Moscow to Vladivostok is also excellent in terms of its service as it also has doctors for the convenience of the passengers. And food is regularly served in an area such as a restaurant.
5. Belmond Royal Scotsman
The train takes you to see the magnificent countryside of Downton Abbey, taking you to forts and sightseeing. It can carry 36 people at a time. It's a very exciting journey.
6. Blue Train, Pretoria to Cape Town
The Blue Train travels 27 hours a day from Patoria to Cape Town. It has big and beautiful bathtubs, just like ordinary luxury apartments. Nelson Mandela and other important personalities have also traveled in it.
7. The Ghan, Adelaide to Darwin
Ghan travels from Darwin to Adelaide in central Australia. The train serves breakfast and meals up to bed with special meals such as fish and kangaroo meat. This train also has a dining area.
8. The Canadian: Toronto to Vancouver
Passengers cover 4,466 km in four consecutive days on this train – it is a very exciting journey as you get to see many beautiful places in Canada throughout the journey – including for the passengers on the luxury train. There are luxurious rooms with high furnishings.
9. Rovos Rail
Rovos Rail provides travel services in South Africa and Zimbabwe. It has 16 square meters of rooms with separate toilets, showers and simple bathrooms.
10. Transcantabrico Gran Lujo
This is the most beautiful train service in northern Spain that stays at the railway stations at night to provide better sleep to the passengers. Its rooms are like ordinary bedrooms with washrooms.