The highest recorded temperature in the world could be 54.4 degrees Celsius recorded in Death Valley, California, USA.
This has been confirmed by the US National Weather Service.
The temperature was recorded during a severe heat wave along the west coast of the United States, which is expected to rise further this week.
In the scorching heat, a power outage caused a fault in a power plant in California.
Past Records?
The temperature was recorded on Sunday at Furnace Creek in Death Valley.
Earlier, extreme temperatures were recorded at the same place in 2013, which is currently 54 degrees Celsius.
A century ago, the same place recorded a temperature of 56.06 degrees Celsius, but there is disagreement. Some modern meteorologists believe that many of the temperatures recorded this summer were incorrect.
Climate historian Christopher Burt analyzed in 2016 that temperatures recorded in the region in 1913 did not match Death Valley temperatures.
Another extreme temperature on Earth was recorded at 55 degrees Celsius in 1931 in Tunisia. But according to Christopher Burt, temperatures recorded in Tunisia and elsewhere in post-colonial Africa are "highly questionable".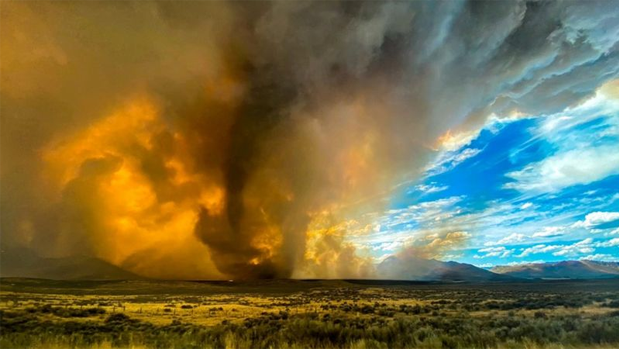 Heat Wave?
The heat wave is currently sweeping the southwestern state of Arizona and the northwestern state of Washington.
It is expected to start coming down on the weekends after reaching its peak on Monday and Tuesday. This scorching heat wave will last for at least another ten days.
A tornado was seen in Lawson County on Saturday due to a heat wave in California.
An independent California power supply agency has declared a third-degree state of emergency, meaning the state's electricity demand has outpaced production.
The state's power generation is largely dependent on solar and wind energy, and the increasing use of air conditioners in homes in the summer also puts pressure on the power supply system. The risk of the whole system collapsing also increases.
To meet the demand for electricity in the state and to reduce the risk of power outages, the authorities are carrying out load shedding in these areas to control the situation and save energy. can go.
What are the effects of severe weather?
Officials say temperatures above 32 degrees for three to four days and incarceration are considered extremely hot weather or heat waves.
According to the US Centers for Disease Control and Prevention (CDC), more people die from heat waves than from any other severe weather.
The effects of extreme heat on the human body can lead to convulsions, dehydration and fever.
According to the World Health Organization, extremely hot weather can further complicate various pre-existing ailments such as respiratory problems, heart disease or kidney disease.
The severe heat wave also has a negative impact on the agricultural sector.